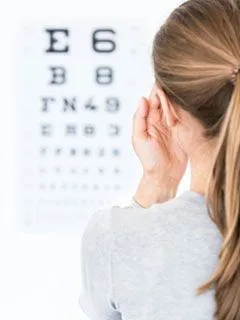 Drs. Hawks, Besler, Rogers & Stoppel and our entire team are committed to providing advanced vision care in a professional and comfortable environment. Our primary eye care services include a complete eye exam that analyzes eye health and vision function. In addition to eye exams and vision testing, we provide testing for glaucoma, cataracts and macular degeneration. We also also offer glasses, contact lenses, surgical care and pre- & post-operative care.
Eye Exams
During your yearly examination, our patients receive a patient history review, a series of vision and eye tests, assessments of eye focusing and movement, and an eye health evaluation. Our optometrist will discuss any additional testing that may be required to diagnose an eye disease or condition.
Contact Lenses
Not sure that glasses are for you? Ask our staff about contact lenses. Advances in the field of optometry have produced a variety of different types of contact lenses with a range of benefits. Rigid gas-permeable (RGP), daily-wear soft, extended-wear disposable, hybrid (rigid and soft combined) and corneal molding lenses. Our optometrist will discuss the various options with you to determine which type will best fit your needs and lifestyle. There are many advantages to consider when determining if contact lenses are right for you and our knowledgeable staff is here to answer any questions.
Emergency Care

We offer during- and after- hours emergency care for our patients. If you have an eye-related emergency call our office, anytime, and a doctor or tech will triage your situation and get you the help you need.
IPL (Intense Pulsed Light) for Dry Eye
The Eye-Light IPL is the world's first system to use a combination of photobiomodulation and pulsed light to treat MGD and dry eye. It uses a device to calculate skin type and sensitivity to customize each patients treatment to the proper intensity of pulsed light to provide the most effective and safe treatment. The treatments use the light therapy to dissolve blockage of the Meibomian glands, decrease inflammation and restore normal function.
Myopia Control

Myopia, or nearsightedness, is when you can see near objects clearly, but have difficulty seeing objects at a distance. Myopia can be caused by the shape of the eye's cornea, or when the eye grows too long. Myopia is a common refractive error among children, and it can worsen as children grow, impacting learning and development. While the only option for treating myopia used to be glasses or regular contact lenses, now there are a variety of treatments available that may slow this condition's progression. The myopia control treatment you choose depends on your child's unique vision needs. Talk to us today to find out what treatment is best for your child.
LASIK
Laser assisted in situ keratomileusis, commonly referred to as LASIK, is a corrective alternative to glasses or contact lenses. LASIK is a method for treating refractive conditions including nearsightedness (myopia), farsightedness (hyperopia), and astigmatism by reshaping the front surface of the eye with a laser. We provide pre- and post-operative exams for LASIK and work with a local LASIK specialist to assure optimal results.
Supplements
We offer a variety of supplements and drops for various eye conditions. After your testing and conversation about your vision needs we will be able to recommend products specific to your needs.